#PowerofIdeas and a Discussion w/ McSilver Fellow-in-Residence, Henry L. Greenidge
A look at the future of sustainable and inclusive cities in my latest essay for The Milken Institute's Power of Ideas series & strategies for implementing mobility solutions with Henry L. Greenidge.
The Milken Institute's Power of Ideas series brings together a diverse group of influencers around a central theme, asking global leaders to convey their thoughts on building meaningful lives, driving shared prosperity, and more. I had the opportunity to contribute to their most recent release exploring the unique challenges, opportunities for growth, and collaborative responses associated with the COVID-19 pandemic. 
The Power of Ideas series has featured short essays from global leaders across industries and perspectives including The Dalai Lama, Bill Gates, Melinda Gates, Al Gore, Chelsea Clinton, and Jingdong Hua. I am ecstatic to be listed among them. My essay, The Future of Inclusive, Sustainable Cities Relies on Public-Private Partnerships, explores how cities can rely on the inclusion of all sectors, communities, and ideas to pave a path forward that effectively brings together multi-industry stakeholders to imagine what's possible. You can check out the essay here and I'm including a graphic of a pulled quotes below. 
How can we ensure that the best ideas and innovators are supported? This requires a commitment to incorporating a comparable depth in how we invest, develop, and deploy technologies and projects to the rich diversity found in our cities.
---
Building on the value of place in identifying and scaling the best ideas, I was able to chat with Henry L. Greenidge, Esq., a policy expert specializing in sustainability, energy, infrastructure, broadband, and autonomous transportation. He most recently worked to advance local outreach efforts and advocacy with Cruise, a GM subsidiary focused on autonomous vehicles and was recently selected as a McSilver Fellow-in-Residence at New York University.
Additionally, Henry has been a Program Examiner in the White House Office of Management and Budget during the Obama Administration, a Policy Advisor to the U.S. Secretary of Transportation and has held positions within the New York City Office of the Mayor and the NYC Department of Transportation. We explore the importance of a local approach in scaling solutions, autonomous vehicle technology, the role of community and policymakers in implementing mobility solutions in cities, and companies to follow.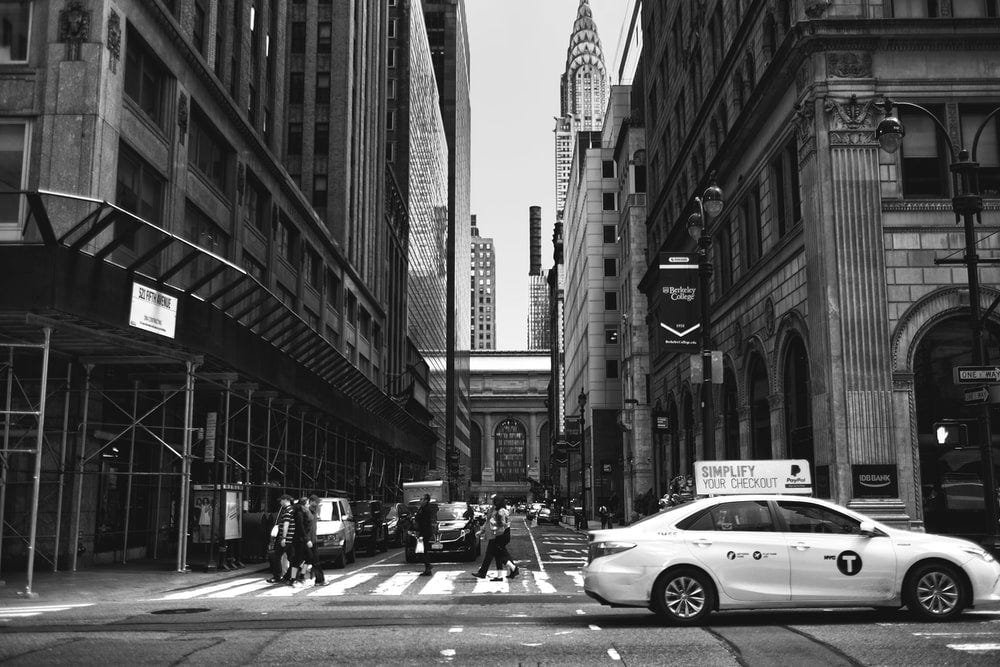 ---
You were recently selected as 2020-2021 Fellow-in-Residence by The McSilver Institute for Poverty Policy and Research at New York University where you will be the intersection of transportation policy with poverty, race, and class. What projects and topics do you plan to focus on and why?
Henry: Over the past several years, the McSilver Institute has established itself as a leader in highlighted issues impacting the Black community. Their recent exploration of the alarming rate in which Black youth suicides were rising has led to an increase in public awareness, more research, and legislative action at the federal level. 
For me, McSilver's approach to taking on a  widely unknown problem and making it a priority for policymakers is something I wanted to replicate with transportation. We know our transportation system is flawed, and we know many are left behind or simply not included. However, there has been little discussion on the root cause, which is systematic racism and how it shows up today.  The concept of safe, reliable, affordable transportation does not exist for many because that is the way the system was intended to work. To change that, we must acknowledge how we got here and take active steps to dismantle this system that has normalized inequity. 
While the contours of the fellowship are still being developed, I can say that broadly we will seek to achieve these broad four strategic goals: (1) Increase public education and public discourse on transportation, mobility, and urban technology topics impacting Black Americans; (2) Demonstrate the role transportation plays on issues such as public health, climate justice, and affordable housing; (3) Promote the policy and research efforts of thought leaders long-established in exploring equity and impact on Black Americans; and (4) Convene policymakers and develop actionable solutions for the implementation in New York City and beyond.
Being named as a McSilver Fellow-in-Residence is perhaps one of the greatest professional honors of my life.  I hope that our exploration of this work will continue to create pathways for addressing systemic racism, which plagues our transportation ecosystem. 
How, if at all, has your experience in the public sector informed the way you approach your work in transportation?
Henry: My work in the public sector has been critical to my approach. I have worked on transportation and mobility issues at the federal, state, and local levels for the better part of the last ten years. During that time, I have advised principals on policy, budget, and legal issues related to highways, transit, rail, maritime, and technology such as GPS policy and autonomous vehicles.  
When looking back on my time in transportation, one thing remains clear, and that is on the whole (there are exceptions!), we as transportation professionals have not successfully made the case to the general public as to why transportation is important.  Many of us spend a significant amount of time working to advance new policies, programs, or initiatives but then fail to adequately explain why it's important to the public.
My approach is focused on fostering communication. I strive to have honest conversations about not only the benefits of what I'm advancing but the costs as well. My approach always includes recognizing that I have my own biases (we all do!), which left unchecked could be a hindrance. Additionally, when working in historically marginalized communities or other communities of concern, my approach is always to listen first. 
I think the lack of equity-focused communications and engagement plans are a major contributing factor as to why racism continues to be perpetuated in our transportation system despite the good intentions of many professionals in the industry. Far too often I have seen a preference to avoid engaging with the public or when discussing transportation issues with those who are not in the industry, using language or terms of art instead of plain language.
"One of the best lessons from my time at Cruise was the important reminder that when it comes to innovation mobility, everything is and must be local...Ultimately, companies need to know and understand each market they seek to operate in."
During your time at Cruise, you worked to deploy autonomous vehicles which included public engagement. What did those efforts teach you about place-based innovation? What were some unexpected learnings or wins?
Henry: I accepted the role at Cruise because I really do love the benefits autonomous vehicles (AVs) can offer if deployed in a thoughtful, responsible way. My role grew from being New York City-focused to one that included several markets around the country.  One of the best lessons from my time at Cruise was the important reminder that when it comes to innovation mobility, everything is and must be local. Much of the feedback I received was applicable in only that specific market. A cookie-cutter approach will likely not adequately address the needs of cities. Ultimately, companies need to know and understand each market they seek to operate in.
One unexpected learning was about how my work fits into the larger movement to give voices to those who had previously been voiceless in transportation. As a public engagement lead, my task was to educate elected officials, policymakers, and advocacy groups on AV technology. Yet, for me, the most fulfilling work was taking that a step further by engaging with those who were not considered the "usual suspects" of engagement. Because I am a Black man, it was easy for me to engage with organizations that represented the interests of Blacks and other people of color. I engaged with civic organizations, community groups, schools, museums, churches, and other non-profits all with a focus on how this technology could impact them. We had conversations about potential job loss, algorithmic bias, and even rumors out there that AVs cannot see Black people! Ultimately, what I came away with is that even though there remain some skepticism and mistrust of AV technology and the AV industry, what people want most is to be included. 
What companies or initiatives are you most excited about at the moment? Is there one in particular that you believe can solve some of the complex problems around mobility in cities?
Henry: Our world has changed seemingly overnight and although this is an incredibly challenging time, I am excited about some of the technology-driven solutions in mobility such as Oonee Pod and Reef Technology. 
Oonee pod is a customizable storage pod for bikes and scooters. We have seen an increase in bike usage in the wake of COVID-19, which is great! Oonee pod provides a creative solution for storage that can help activate neighborhoods. Additionally, Oonee's pod's meet an existing need already identified by New York City. 
Reef Technology is also an exciting company focused on innovating the way we use storage spaces. Reef, which is the largest operator of parking lots in the country is creating neighborhood hubs with their parking lots. These hubs help with first and last-mile goods and grocery delivery and help restaurants expand their delivery footprint through the use of mobile kitchens located closer to neighborhoods. I'm excited to help run their public affairs in the Northeast.
Lastly, I remain excited about the prospect of autonomous vehicles. The deployment of autonomous vehicles offers the possibility to start over. For the first time certainly in my lifetime, we have the opportunity to include diverse voices in the planning and development of technology that can benefit EVERYONE. If done correctly, we don't have to leave folks behind. Just think of the possibilities! AVs have already provided additional use cases by conducting autonomous delivery of blood samples, meals, and grocery delivery during COVID-19. However, one of the biggest impediments to the deployment of autonomous vehicles beyond technology is the trust factor. Will people trust tech companies to safely transport them and their loved ones. I think over time the answer is yes, but I believe we will see the autonomous transport of goods before people.